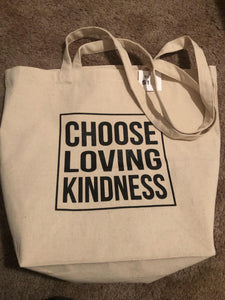 Tote Bag - Choose Loving Kindness
Regular price $20.00 Sale
Tote bag for everyday use with Bhante Sujath's  one of the favorites quotes "Choose Loving Kindness".   
This is a very special item made exclusively for raising fund for an ultra-sound scanner for maternity ward in rural Sri Lankan hospital. 
---
We believe in the healing power of intention. All of these items are filled with our loving intentions for you and the world. Each item has been placed inside a circle of us as we chant the following three discourses which are believed to include the power to protect human beings for all negativity and bring healing energy into your life.

Ratana Sutta - The Jewel Discourse
Karaniya Metta Sutta - The Loving-Kindness Discourse
Maha Mangala Sutta - The Discourse on Blessings
We believe that through loving action, we can all change the world together by adding more love to everything we do. We've added all the love we can to these items and are so happy to share that love with you so you can go into the world and spread it around.
---